Here's a few simple steps to create a gravity ball animation effect.
Open ImageReady, start a new document. I started with a preset of 297 x 300.
Next, select the 'Rectangle Tool (U)' from the Toolbar, with a foreground color of your choice (I used #CCBDA8) and 'Create New Shape Layer' active on the Options Bar, draw a basic shape as I have captured below.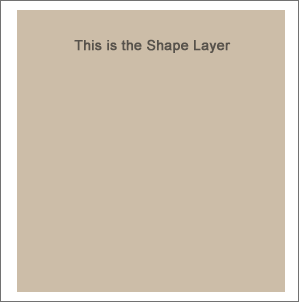 This is the Layers Palette view.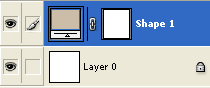 Next, with the 'Shape 1' layer active (highlighted in blue), click the 'Add a mask' button on the bottom of the Layers Palette (encased in red below), to add a new Layer Mask Thumbnail between the Layer Thumbnail & the Vector Mask Thumbnail. (Pointing red arrow).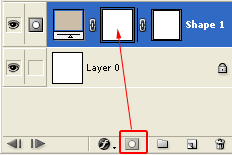 Next, activate the new 'Layer Mask' by clicking on it. Then select the 'Pencil Tool (B)', set your foreground color to Black (#000000) and with a brush tip size of 27, (or of your choice) make a single click inside the Shape, and you should have something similar to below.





And here is the Layers Palette view.
Note: I enlarged the Layers Palette preview so you can see that the above Pencil click is onto the Layer Mask.
As with Layer Masks, painting with Black, HIDES. So essentially, all I did was knock a hole into Shape 1 layer, thus revealing the white color underneath from the default background layer.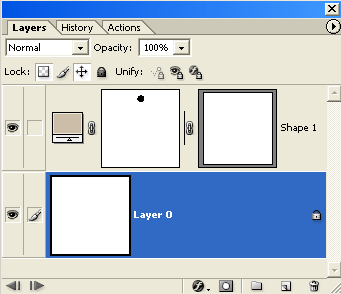 As a final preparation before the animation, turn off the two Links between the Layer Thmbnails by single clicking on them. This will allow us to move the mask around during the animation without having to create additional layers for the effect.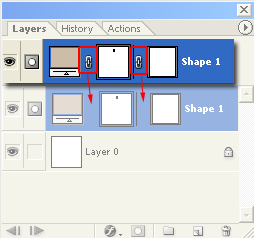 Lets animate this Mask!

Go 'Window/Animation' to bring the Animation Palette to the foreground.



Make sure that no options are selected from the 'Animation Palette' menu, as captured below.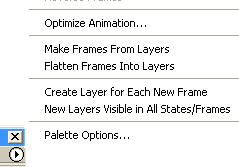 To begin:

Duplicate current Frame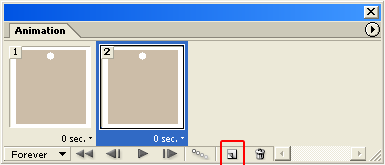 Activate the new frame
Click on the Layer Mask Thumbnail
Select the 'Move Tool (V)'
Hold the Shift key & drag the mask in the desired direction.
Repeat process with each additional frames added.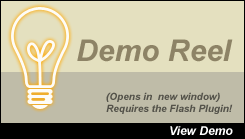 Here is my final version. Click the DemoReel graphic below, then click the main graphic to Play/Replay.
Note: My final animation has been tweaked with play back features not outlined in this tutorial.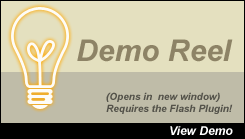 Summary:

1. Created a Shape Layer
2. Added a Layer Mask
3. With Pencil Tool painted a Black hole onto the LayerMask
4. Unlinked the Layer Thumnails
5. Open Animation Palette
6. Duplicate Frames & with the Move Tool adjusted the position of the Layer Mask to simulate a gravity drop.

I must point out that this method is quite useful for two reasons.
A.) The file size of my final animation is only 3k
B.) Only a single layer was used. The Layer mask did all the work.
This entry was posted on 29 May 2008 at Thursday, May 29, 2008 and is filed under
Animations
,
Photoshop
. You can follow any responses to this entry through the
comments feed
.